Welcome to OWL Live TV, the panel channel webcast enabling you to engage in discussion with live communication professionals talking around a range of useful topics directly relevant to today's new business challenges in this unprecedented WFH era.


Over the next few weeks you can tune in to watch and listen to our panel of experts and ask them questions live that are relevant to your business needs.

Just register your interest below and we'll send you a link to the live show, or the recorded one if you missed it. Looking forward to welcoming you to OWL Live TV. 

See you soon.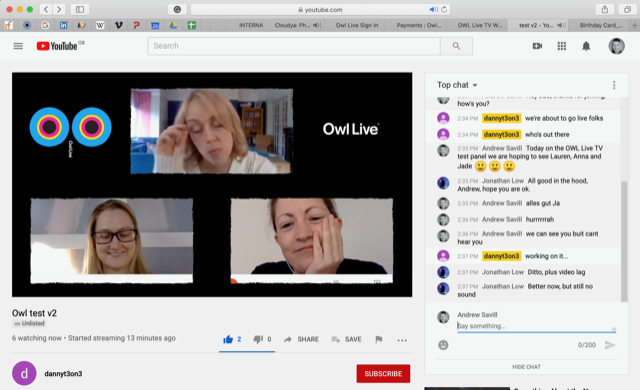 Series schedule
S1-E1 Thursday 2nd April 10.30am (BST) – Being together when working remotely
S1-E2 Tuesday 7th April 10.30am (BST) – WFH comms with experiential learning techniques
S1-E3 Thursday 9th April, 10.30am (BST) – TBC
EASTER BREAK
S1-E4 Tuesday 14th April, 10.30am ( BST) – TBC
S1-E5 Thursday 16th April, 10.30am (BST) – TBC
S1-E6 Tuesday 21st April, 10.30am (BST) – The positives that will change business & live communication